The wine closure dilemma
The wine closure dilemma
It is said that most of the wine consumers prefer the traditional cork stopper as the classic cork enables the wine to breathe and hence further develop its aroma in the bottle. Hence for many wine consumers a cork bottle stopper suggests quality. But is that a widespread believe or the proven truth? Let's take a close look at various options how to close a wine bottle and its pros and cons.
The very traditional cork bottle stopper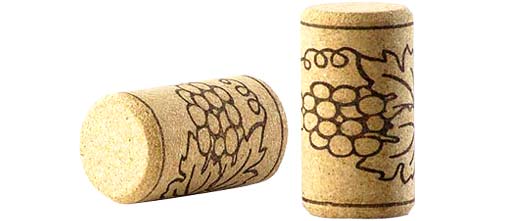 The classical cork bottle stopper is made out of cork – a natural product derived from the cork oak tree. It is the outermost layer of the bark. Already the ancient Greeks and Romans used this material to close their wine bottles.
Pros:
-better wine aging process for bottles stored longer than a year as the bottle is not hermetically closed. If bottles are stored for less than a year the impact of a cork bottle stopper on the wine aging process can be neglected.
-Cork can compensate minimalistic errors in an uneven bottle production as the material can adjust to the bottleneck.
-Renewable material
-recyclable
-tradition
Cons:
- Cork taint or wine fault: a musty smell caused by microorganism living in the cork.
-Complicate storage: A bottle closed with cork should be stored horizontally and in a place with constant temperature and humidity
-It is a rather expensive method for closing a wine bottle
The screw cap
The screw cap for wine bottles was invented in the late 1950s in France. The screw closure technique is predominantly used in Australia and New Zealand.
Pros:
-The wine aging process is slower than using cork as the screw caps keep oxygen out for a longer time than the traditional cork bottle stoppers.
- easy to open and reclose
- Easy storage: Bottles with screw cap can be stored either vertically or horizontally moreover changes in storage temperature or air humidity do not have a huge impact on the wine quality.
Cons:
-There is a need of a perfect bottleneck: unevenness in the glass leads to imperfect wine storage
-image of a "cheap wine"
-no classical "pop" sound when opening the bottle.
The synthetic cork bottle stopper
Synthetic cork bottle stoppers are made out of plastic compounds. It is recommended to store those wine bottles up to two years as the synthetic material will change its composition.
Pros:
-causes the same "pop" sound when opening the wine bottle.
-High level of isolation
Cons:
-The synthetic cork bottle stopper is not biodegradable.
- Danger of a potential "chemical" wine aroma caused by the synthetic closure.
-As hard to open as the classical cork bottle stopper.
Vino-Seal
Vino-Seal also known as Vinolok is a closure mechanism for wine bottles and represents the newest invention in this field. It was invented in 2004 by a US company. The Vino-Seal is a glass stopper with a small silicone ring which garantees a hermeneutic storage of the beverage.
Pros:
-elegant design
- hermeneutic storage
- easy to open and close
Cons:
-rather expensive and complicated method for closing bottles
-Once the bottle is opened the closeness factor is not that high compared to other closure
options. These bottles should not be stored horizontally.
-no classical "pop" sound when opening the bottle.
Zork
The Zork mechanism was invented in 2006 in Australia. The closure consists of three parts: a rather robust outer cap, an inner metal film which prevents the wine from oxidation and a plunger which causes the classical "pop" when opening the bottle.
Pros:
-causes the same "pop" sound when opening the wine bottle.
-easy to open and reclose
- no special bottleneck needed
- also a small number of bottles can be closed by using this method.
- all the materials used can be recycled.
Cons:
-it is a rather expensive method to close bottles
Summing up one can conclude that there exist a wide range of opportunities of how to close wine bottles and that each method has its pros and cons. Closing a wine bottle with other material than cork does not mean that the beverage is of a lower quality.
Fortunately a lot of research is done in this field in order to improve the storage capability of wine. Findings were used to create new closure methods such as Vino-Seal and Zork, which represents relatively new options to close bottles.
So far long term studies regarding various types of wine bottle closure methods are missing, hence it is not possible to seriously say which method is the best. It is very probable that the result of those long term studies will depend on the type of wine and the duration of the storage.
Every glass has a story...